GlaceonTrainer
Frontier Six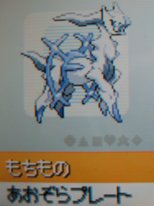 Joined: 24 Jun 2007
Posts: 61

Posted: Sun Jun 24, 2007 9:00 am

Post subject: Nintendo World,NYC

---

Has anybody been there? It's my favorite store. They have everything from Wii-Pokemon. Even a display case of old systems. In the display case they show a GAMEBOY that lived through a bomb attack on a troop base in the cOLD WAR. It still works. They have it on.