GlaceonTrainer
Frontier Six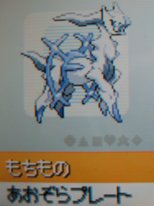 Joined: 24 Jun 2007
Posts: 61

Posted: Sun Jun 24, 2007 8:52 am

Post subject: New Land

---

Story: Workers were sent to a HUGE chunk of land to work on and a make livable. While they were there Pokemon helped them out. 9 in particular.(BEFORE EVOS) These eventually became very well known and the land was finally livable.The pokemon that helped did not want this. They didnt want to be caught.They decided to Rebell.
POKEMON:

Dranea, Drapeon, Dohorn,

Chiporb,Silentra,Typeunny(Evos< click and Enlarge)

Fikid,,Greeird,Speeish,.
NOTE:Evolving Typeunny:depending on where you train it after reaching max friendship it will Evo to a different type.
HOW TO APPLY:


Code:
Name:
Which Pokemon you are:
Lv:
Gender:
Personality:



Rules:
Follow RPG rules
No Godmoding(making yourself seem unbeatable or the best)
No rushing the story.
No choosing the same Poke as somebody else untill all spots are filled
Now,please enter.When we have at least have 9 people we will start. But feel free to join any time.